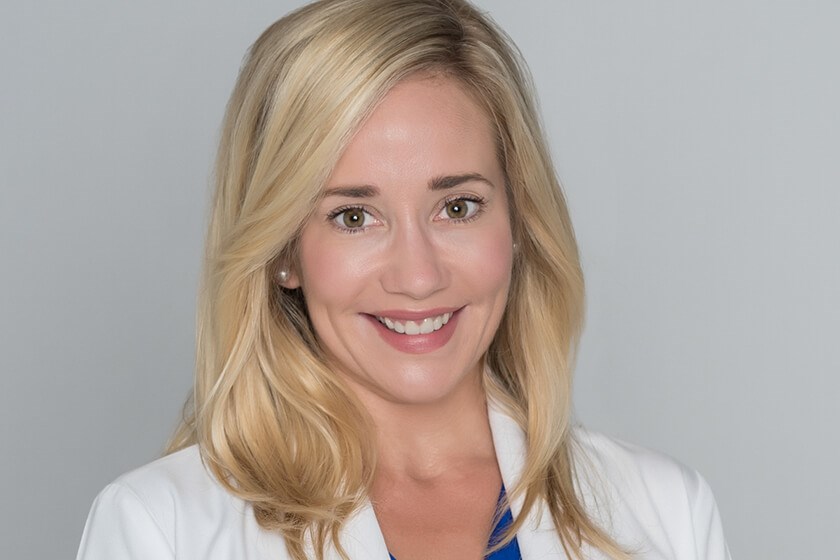 Dr. Katherine Ferris completed her undergraduate training at the University of Southern California, graduating summa cum laude, after spending her early youth in Dallas and Arizona. After earning her BA degree in Psychology (with a Spanish minor), Dr. Ferris took time off after her undergraduate training to pursue professional dance in ballet, jazz, hip hop, and aerial arts, during which she performed in live shows, music videos, and with several Los Angeles-based dance companies.
Her athletic endeavors fostered an appreciation for human physiology, providing a foundation to manifest her profound interest in medicine. Once destined for this profession, she quickly realized her passion for all things skin care. She entered medical school at University of Miami in Miami, FL, where her love for dermatology flourished, even prompting a one year hiatus dedicated to dermatologic research; during this training, she became involved in dermatology interest groups and several dermatologic medical societies. She then completed her internal medicine internship at St. Mary Medical Center of Long Beach, followed by dermatology residency at UC Irvine. There, she served as head coordinator of Lestonnac free medical clinic for two years, as well as director of resident cosmetic training and chief resident for Quality Improvement.
She has published numerous articles, book chapters, and given many presentations on diverse topics in dermatology. Dr. Ferris is dedicated to promoting skin health, with the goal of unveiling patients' healthiest and most radiant features, thereby regenerating their natural beauty.
Click Here for Dr. Ferris's full Curriculum Vitae
UC Irvine Dermatology
Dermatology Residency, June 2017 - Irvine, CA
St. Mary's Medical Center Long Beach, CA
Internal Medicine Internship, June 2014
University of Miami Miller School of Medicine Miami, FL
Doctor of Medicine, May 2013
University of California Los Angeles (UCLA) Los Angeles, CA
Post Baccalaureate Premedical Program, May 2008
GPA: 4.0 Cumulative
University of Southern California (USC) Los Angeles, CA
Bachelor of Arts in Psychology, Magna Cum Laude, Minor in Spanish, May 2003
GPA: 3.74 Cumulative, 3.93 Major
Honors: Ambassador to the President of USC, Golden Key Honor Society, USC Renaissance Scholar, Psi Chi national psychology honor society, Deans List (Aug. 2001 – May 2003)
Lance Chapman, Katherine Ferris, Christopher Zachary. Fractional Ablative Laser Acquisition: Utilizing a Break-even Analysis in Your Practice.
ASLMS San Diego, CA
April 4, 201
First Prize in the Early Career Abstracts Presentation Competition
Michael P. McLeod, Katherine M. Ferris, Yasser Alqubaisy, Jessica Loring Warsch, Sonal Choudhary, Michael Shiman, Ploypailin Jungcharoensukying, Keyvan Nouri. A Retrospective Study of Skin Cancer Laterality
Annual meeting of the Florida Society of Dermatologic Surgeons Orlando, FL
December 3, 2011
Tied First Prize in the Residents/Fellows Presentation Competition
Katherine M. Ferris, Michael P. McLeod, Sonal Choudhary, Marilyn Zabielinski, Yasser Alqubaisy,
Keyvan Nouri. The effects of Hydrogen Peroxide and Saline on the Tensile Strength of Sutures.
Annual meeting of the Florida Society of Dermatologic Surgeons Orlando, FL
December 3, 2011
Tied First Prize in the Residents/Fellows Presentation Competition
Outstanding Community Service Award Boca Raton, FL
May 2010
Head Project Manager, Caridad Clinic
Professional Organizations
Cal Derm
Resident Member, 2015 – Present
ASLMS
Resident Member, 2015 – Present
Palm Beach County Medical Society
Member, Aug. 2008 – Present