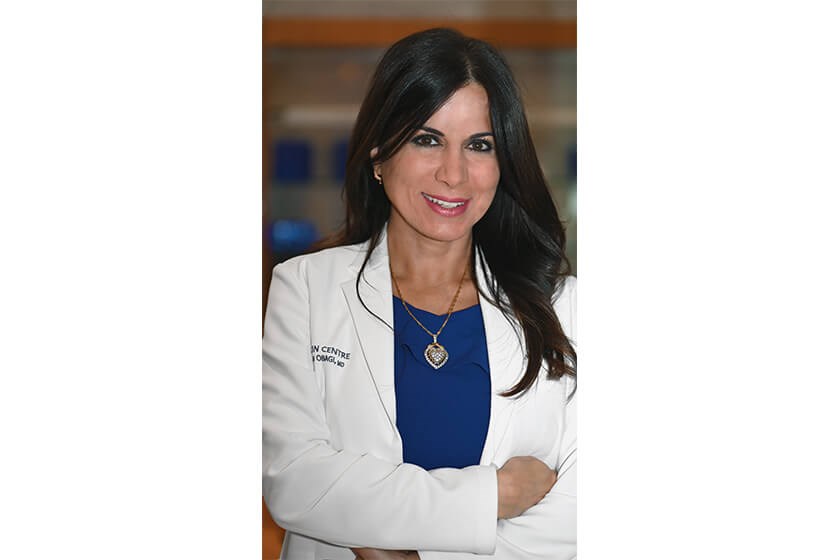 May Ali, PA-C specializes in the transformation of skin utilizing ZO® skincare protocols through individualized patient consultations. She is an exceptional educator and advocate for her patient's skin health regimen. She performs a wide array of services ranging from skin rejuvenation, injectables, lasers, medical-grade peels and 3D tattooing for cosmetic body image correction.
May's extensive dedication to the art of skin results in each patient reaching their individual skin health goals. Before joining the ZO Skin Centre in 2019, she spent 13 years as a Physician Assistant of Plastic & Reconstructive Surgery at St Jude's Hospital. May Ali grew up in New York, attended school in Switzerland before settling down in Southern California. May received her degree at Charles R. Drew University of Medicine and Science Field Of Study Health Services/Allied Health/Health Sciences, in 2007.
Reviews
"I created an account just to write this review. I have always wanted to get some subtle fixes but never had the courage to go through with it. I feel so lucky that I was able to find Dr. Kosins. My sister and I got a procedure done with Dr. Kosins. While his reputation, his research in the field, and his perfect yelp score helped me gain confidence; seeing my sister's results helped me move forward. I was really nervous during my consultation regardless, and looking back am not sure if I gave Dr. Kosins enough information but he seemed to know what i wanted better than me. Right after the procedure i got really nervous wondering if I gave him enough info but everything went so well and i literally was in love the day the bandages were off. I truly believe Dr. Kosins might be the best in his field, even though I don't have other reference points, he captured every detail and i'm nowhere near healed and saying this already. Additionally his whole staff is so kind, and shoutout to Judy for all the help during the whole healing process she's just wonderful and so genuine. If you're considering a procedure go to an honest doctor that really cares. This is the place to go, i love that he is conservative and careful. I'll post another update when i am more healed, but thank you thank you i'm so happy i found you Dr. Kosins and Office!"
A.A.
Yelp
"When it comes to choosing a good plastic surgeon, they are a dime a dozen, hello! It's Newport Beach! But when it comes to finding a GREAT plastic surgeon, there's only one man for the job, Dr. Aaron Kosins. Dr. Kosins is detail oriented, realistic and genuinely cares about each person that walks through his door. He listens to each desire you have and gives you an honest expectation & then exceeds every dream you could've ever dreamed for yourself. But it doesn't stop there. His entire staff is attentive, kind & understanding. There will never be a doctor I trust more. Thank you Dr. Kosins & team for making my dreams come true!"
S.A.
Google
"From start to finish, my rhinoplasty experience with Dr. Kosins was seamless. I had my first consult with Dr. Kosins virtually (due to COVID), and from that first meeting it was apparent how much of an expert he is in his field. He was able to correctly guess my ethnicity before I told him I was Egyptian just based on the characteristics and insecurities I had with my nose. From that point on, I knew he was who I wanted to do my rhinoplasty with. I booked my surgery for February 12th, and I am now 1 week post-op. I could not be happier with the results. Dr. Kosins' confidence and self-assuredness are the exact qualities you want in your surgeon, especially one who you are trusting with the focal point of your face. During my pre-op appointment, I told him that I was giving him the liberty to do what he feels is best with my nose, and I am extremely happy I did.The recovery was not as bad as I thought it would be. The most difficult part was probably the feeling of nausea I had due to the anasthesia, but Dr. Kosins prescribes nausea medication for this very reason. In the six days after my operation, I had some swelling in my face but ABSOLUTELY NO BRUISING. Dr. Kosins called me personally after the surgery, which was extremely thoughtful and kind as this is not the norm for most surgeons. Nurse Judy was also an amazing support system to have during this time, she called me every day after the surgery to check on me and remind me of my care instructions, as well as to answer any questions I had. They have both gone above and beyond, and every single person on his team upholds a sparkling standard for patient care. My cast was removed yesterday (6 days post-op), and I cried when I saw my new nose. For so many years, I felt like there was a disconnect in my face - I was a 20 year old with an 80 year old's nose. Any anxieties I had about looking drastically different or having an upturned nose vanished when I saw my reflection in the mirror. I still look like me, my nose just matches now. It was incredibly emotional, and I felt as though I was finally seeing my real self for the first time. This experience has been absolutely life changing, and I will be forever grateful to Dr. Kosins and his team for their outstanding work. To summarize, Dr. Kosins is an incredible surgeon who has clearly perfected his craft. If you are interested in getting your rhinoplasty done, look no further than Dr. Kosins, as he is someone who reflects nothing but integrity and excellence in his work. Nurse Judy and the rest of the team are an amazing support system, and I can never thank the entire group enough for this incredible experience."
N.E.
Yelp
"Dr. Kosins is an incredibly skilled surgeon. I traveled from the Midwest to have a rhinoplasty with Dr. Kosins after having consultations with 4 top rhinoplasty surgeons all over the US. The main reason I chose Dr. Kosins is the consistency of his outcomes. I carefully evaluated each surgeon's before and after photos over time and saw Dr. Kosins not only made noses look better from the side, but every angle. I read hundreds of reviews before making my decision, here are a few key highlights: My Result- Excellent! My nose no longer plunges and is refined from every angle. Despite being a big change in my opinion, even my most discerning friends and co-workers have no idea. Cost- Very reasonable for the area and level of skill. Based on the other quotes I received, a high quality nose job is similar in price no matter where you go. Experience- Judy (nurse) is without question the one of the most supportive positive person I have ever met. If every person had just 10% of the energy and genuine kindness Judy has, the world would be a much nicer place. I kept seeing her name in all of the reviews, and it's true- she's more amazing than I can articulate in a review :) Dr. Kosins- Aside from his exceptional skill, he truly cares. During my follow-up appointment he's excited to see the result and concerned with my happiness. I recommend following him on Insta as he posts tons of patient preop and postop videos and you can really see his skill exemplified. Out of Town Patient- I had my surgery during the COVID pandemic (hopefully when you are reading this the pandemic is over!), so travel was a bit tougher. If you are coming in from out of town I recommend really planning out your trip to make recovery stress free. Ask for a list of what you need for recovery, so you can buy it ahead of time. Recovery- There was no pain BUT I couldn't breathe through my nose at all the first week until the splint was removed. This was the worst part. I worked from my AirBNB a few days during this period, which was tough since my voice was extremely congested. I recommend NOT scheduling conference calls during your recovery if you don't want to tell your co-workers you had a nose job :) Overall I emphatically recommend Dr. Kosins . His skill, genuine commitment to exceptional results, nurse Judy, and overall experience made it a great choice for an exceptional nose."
C.G.
Google
"I do not usually write reviews but am overly ecstatic about my experience and my results from my rhinoplasty procedure with Dr. Kosins so I wanted to share the amazing experience. In the beginning, when I made the decision to have rhinoplasty, I was overwhelmed by my overthinking. After what seemed like never-ending research I was getting extremely nervous about choosing the right doctor who would give me exactly what I was looking for. I was searching endlessly for the perfect doctor and truly I found him! Dr. Kosins was supportive, understanding, and helpful every step of the way. From the very beginning in my consultation appointment, Dr. Kosins was friendly and took his time answering each of my questions, and thoroughly eased each of my concerns and worries. I was already impressed by Dr. Kosins and right when I thought it could not have gotten better we met Judy. Fast forward to my pre-op appointment, Judy was amazing and walked me and my boyfriend through the entire process from before surgery to the days into my recovery and helped my boyfriend take the best care of me possible. Judy even gave us a shopping list to make sure I would have everything I need at home for an easy recovery. The surgery went great and Dr. Kosins even met me before he began surgery to go over the final details and make sure I was ready for my surgery. Recovery was a thousand times better than what I was anticipating. I was never in any pain and Judy called me every day my first week out of surgery to check in on me and answer any questions my boyfriend and I had. Following surgery I got my cast taken off 7 days after my surgery and was able to see my new nose for the first time. I was overwhelmed with happiness as I have never felt more confident and comfortable in my own skin. While I still have a while to fully recover, the thought that my nose still going to improve blows my mind because I already am so in love with the results. I am only a week post-op and have no bruising or swelling. Dr. Kosins listened to exactly what my ideas were and what the insecurities of my nose were and what I wanted to fix and brought my dream nose to my reality and I could not be more grateful. Both Dr. Kosins and Judy went above and beyond to make sure I was comfortable before and after my rhinoplasty surgery. Going to Dr. Kosins was the best decision I have ever made for myself and he not only exceeded my expectations for the outcome of my rhinoplasty, but he gave me the confidence I never knew I could have. This entire office is the best of both worlds with making you feel comfortable and taken care of and performing the best surgeries. If you are wondering if you should get Rhinoplasty you should do it. Dr. Kosin's brilliance shows through his work and the only thing you will be wondering, in the end, is why you did not see Dr. Kosins sooner."
C.C.
Yelp